Feel for yourself the experience Bom Dia Brazil
written by Celia Malheiros
Brazilian composer, singer, multi-instrumentalist
http://celiamalheiros.com/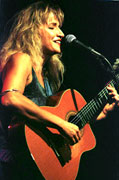 Because of its size and geography Brazil is the country with the largest rhythm diversity in the world. I was happy to find in Bom Dia Brazil a true representation of many regions, showcasing a huge number of Brazilian instruments and their peculiar way of playing them.
Being a percussionist myself, at first I was skeptical about Brazilian sample sounds, but with its great sound quality and very easy to work with loops, the options are many. I did not feel limited or in need to add anything to try to make it sound "real". I did compare some of them with my instruments, playing the same loop and soon enough I could not tell them apart! I do like to mix them with my own percussion to add different colors but I did a few songs using only the samples and that worked great. I also like to use different tuning in my instruments together with the samples.
It is important to understand about some of these rhythms and their origin so you can really take full advantage of the rich Brazilian contribution to music. They are usually connected with some type of dance and/or ritual or even martial arts in the case of capoeira. It is just like any language, of course you can just repeat the words not knowing the meaning, but it is great when you know what you are saying and make your own phrases. The beauty of ethnic sounds is being able to travel and transport the audience to places they never been before and to be able to integrate sounds and cultures in a fun and rich way. Feel for yourself the experience Bom Dia Brazil and watch your music take new directions!
US Home Recording magazine October 2003
by Thad Brown
Brazilian music is far from monolithic, so the first choice a sample library producer has to make is how much breadth and depth is necessary. Bom Dia Brazil shoots for some of each style. It places a strong emphasis on Capoeira music, while including grooves from other Brazilian styles like Samba, Baiao, Choro, and Xote. Capoeira is a tradional Brazilian activity that combines dace and martial arts with musical accompaniment (only in Brazil would one need a smoking back-beat to fight). Over a quarter of the loops are Capoeira rhythms, using instruments like berimbaus, rattles, tambourines, and drums. There is also a hefty collection of Capoeira ensemble loops and a bunch of really lovely vocal-only samples. (omission) Bom Dia Brazil is a great collection of sounds. If you are making electro-Brazil or Lounge-Brazil you'll have to supply the electro or the lounge on your own, but with traditional sounds this good, inspiration should come easily.
UK Music Tech magazine August 2003
by Nigel Lord
MUSIC TECH magazine Recommended
As its name suggests, Bom dia Brazil comes from a part of the world where rhythm is very much the backdrop to everyday life.
Bom dia Brazil includes samples of authentic Brazilian instruments such as the repenique, caxixi, recoreco, surdo and the agogo bells. Alongside them, however, are African talking drums, congas (from Cuba) and Nigerian udu clay drums. All these instruments — and more — have established themselves within Brazil's dominant samba culture. Not that samba is the only Brazilian rhythm: as this collection reveals, others — such as the baion and maracatu — are, in their own way, just as compelling.
It's easy to descend into the language of the travelogue when discussing ethnic music and, in truth, there's an element of this in these sample collections. But if you're looking for authentic sounds you won't find these CDs easy to improve upon. The range isn't particularly broad, but this has a rawness and honesty to them which is very appealing.